Welcome!
We are an artjamming studio centrally located in Singapore. We make it a point to only do art for leisure and not for academics. As such, you will not find any structured art classes here and not feel pressured to paint a certain way. Our art jam sessions and workshops are focused on channeling your creative self while learning specific tips and tricks to help you achieve your objective for that session. Go ahead and unleash your inner child, here is a safe haven for all things artistic!
Testimonials
Cozy location for art jamming and beginner painting workshops. The guide (teacher) was very helpful and you could retain your own ideas with modifications of the workshop paintings. Affordable price for the materials provided. Great for kids' and adults alike

Carolyn Vivianty
Nice cozy little shop in MyVillage that's really a painter's piece of heaven. They play light jazz renditions of popular pop songs which sets to the soft and comforting atmosphere. The shop attendent/artist, Anwar, was absolutely friendly and attentive whenever we needed help. I love it because everyone is minding their own business and leaving you alone so you know that you don't have to worry about being judged for your art skills ;D

Keme Yeo
Starry night + quotes lesson turned a barbarian like me into an artist.

Jon Yeo
LOCATION & CONTACT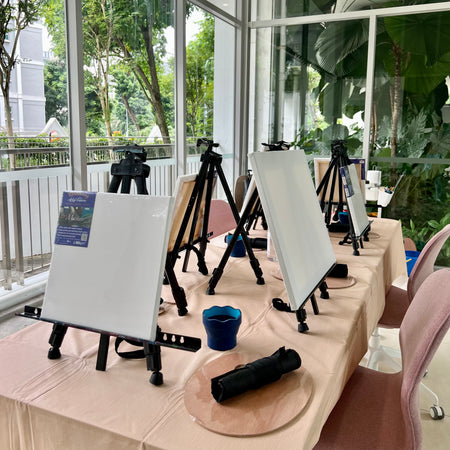 Boulevart @ Oxley Thanksgiving
Schedule
Our sessions for public are held on Saturday and Sunday 1pm to 4pm. (Strictly by appointment only, NO WALK-INS)
Private group sessions and corporate teambonding can be held on any day, any timing, with at least 2 weeks booking in advance.
Location
Oxley Thanksgiving Serviced Residence
328 River Valley Road, Singapore 238360
(Sessions are held at the function room area here. The maximum capacity here is 16 pax. We can also hold it at your own venue with additional transport fee.)
Getting here: Please refer to Contact Us page.
Whatsapp/Telegram: +65 8922 6046